About Us
Andalucia care & Residential Homes

---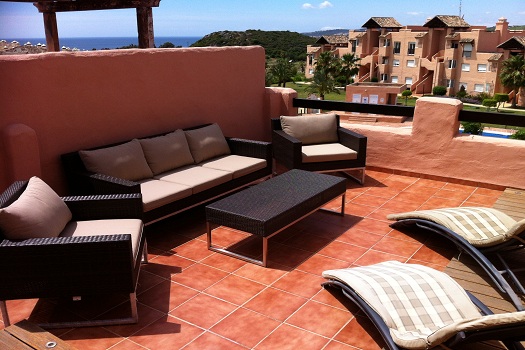 ---
24 Hour Warden Assisted Luxury Apartments
On the Costa Del Sol between Estepona Town and the coastal villages of Sabinillas & La Duquesa
We have for long term rent, New, Gated, 2 and 3 bedroom serviced apartments with en-suite bathrooms at Casares Del Sol. Our aim is to provide high quality residential accommodation for people over 50.
The apartments are extremely spacious for family and friends to stay or live. You can rent either furnished, part furnished, or unfurnished. They all have terraces, Garages, lifts, Costal views, wonderful gardens and pools. Personal pagers are provided for calls to the wardens.
Our apartments have security guard coverage from late afternoon every day, & 24 Hr coverage on Bank Holidays etc: Apartments will be equipped with new furniture and fittings etc, at no extra cost when you reserve an apartment. Everything you need to start your new life will be provided.
We have more than 40 gated apartments in separate blocks of 12. Our aim is to provide your ideal home style environment which suits your way of life. If you become infirm we have on hand all the facilities you or your family may require in your own apartment if you wish.
We provide common rooms with huge terraces for your use, where you can sit, inside or in the shade, meet others, watch TV, play cards, bridge, have coffee, tea, have a snack, barbeque afternoons where friends or family can be invited.
Outdoor entertainments around the pool areas have already been organised jointly by the presidents of some of the blocks where food and drink were made or brought by residents. A very, acceptable way to spend an afternoon or evening meeting others, and making friends.
Special Needs & Infirmed
We have other 2 & 3 bedroom apartments specifically altered to help those who live in our apartments. We also have, set apartments for the Infirmed who need care at home and Alzheimer's sufferers who can share apartments making the cost much easier to bear when shared, We provide Qualified Nurses and professional carers to care for you and yours. I believe we have the best staff who really care.
Care in Your Own Home
Nurses and qualified carers come for between 2 to 24 hrs, or a live in carer might suit your requirements more. Our staff will give you one to one full time support, companionship and care. They will follow an agreed care plan that is personal to you, and will be drawn up with the assistance of your family and Doctor if required and if it is your wish.
Our Staff will be available to carry out the variety of tasks listed below. IN YOUR OWN HOMES, & in all Our Apartments & Villa's EVERYWHERE.
Domestic tasks,
Personal care and support,
Shopping services,
Help to get up, wash and dress etc:
Help overseeing medication.
Sitting services that relieve an existing family carer.
Overnight stays when necessary.
General housework, laundry and preparing meals
Administrative help - letter writing, making and receiving phone calls in Spanish/English. Filling in forms correctly in Spanish/English.
Transportation - Hospital and Doctor's medical appointments etc:
Errands - Shopping, collecting mail, newspapers and prescriptions etc:
Help - getting out and about, taking trips, visiting friends and family etc:

Residential Luxury Care Home Villa's Beautiful Villa's are our Speciality
Our sole aim is to provide regular 24 hour home care services on a full or part time basis in lovely villa's in Andalucia. Our residential homes are where you will be able to live a comfortable life in a home style environment with your own pieces of furniture, photo's and memorabilia, personal items to furnish your new home. With cost in mind we aim to go the extra mile to provide those small luxuries often forgotten, and thus give true value for money, at an affordable all inclusive price.
We provide after illness or holiday, short or long term care.
We have day care facilities for families to leave their loved ones and enjoy peace of mind, secure in the knowledge that they will receive the best of care in a friendly atmosphere at an affordable hourly rate.
Your own Doctor or our Doctor will provide regular visits and health checks when needed. The Emergency services are on 24 hour call out, our kitchens offer a wide and varied English/Spanish menu, vegetarian meals are available on request. Special Dietary needs will be discussed with your Doctor and staff. Our nurses and auxiliaries cover the Villa 24 hours a day.
---
---
---
From Andalucia care about us back to HOME PAGE
---