"Spanish festivals in Andalucia go on all year round"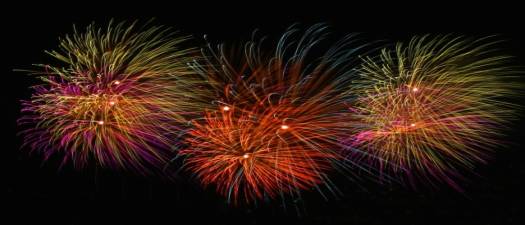 Spanish festivals are happening nearly every day of the year. Amazing Fun....
Here are just a few important ones that are celebrated here in Andalucia.
---
Carnivals in Andalucia

The carnival is celebrated before the 40 days of Lent. Most Andalucian towns stage some kind of parade, and there is usually a dance and a "Carnival Queen" contest.

The Carnival centres around Shrove Tuesday. Most towns celebrate the carnival with processions either the weekend before or after these dates. Cities and larger towns have festivities lasting all week or longer.

The carnival is a reaction against abstentions and prohibitions of all types, everyone is encouraged to wear masks and fancy dress.

Cherry Festival

The Festival de la Cereza is well organised with several stalls set up in the town's sports centre where you can buy large flats of top quality local cherries at low prices.

You will also find plenty of local products on display and for sale. And traditionally, there's plenty of free food and drink to go along with it

Christmas Holidays

Nativity Scenes

The nativity scene has special significance in Spain where organisations, groups of co-workers, families and students across the country work together to create elaborate re-creations of the scene of Jesus' birth. Many public displays, contests and even "living nativities" are on all over Andalucia in small villages and large cities.

All Fools Day

It takes place right in the middle of the long Christmas season .On December 28 it's your turn to play your favourite jokes on friends and family.

Verdiales

The Verdiales Festivals are something to see with bright costumes and lively Spanish folk music. Traditionally the contests take place on December 28. However, nowadays it's possible to enjoy verdiales performances at some fairs and festivals throughout the year.

New Year's Eve

In Spain this is just the mid-point of all the celebrating. The tradition is to have a rather late dinner with your family ,complete with all the pastries, dried fruits and nuts and mountains of turrón that finish every meal at this time of year.

Just before midnight, television transports the whole of Spain to Madrid's central Plaza Mayor where presenters are watching the clock and preparing to eat their grapes.

Semana Santa

Holy Week in Andalucia is an event that literally transforms towns and cities across this region. Processions of elaborately decorated floats with Jesus and Mary statues, groups of pointy-hood wearing penitents, and shrill brass bands, walk slowly through the streets, from their parish church to the cathedral and back.

Granada music festival

For more than half a century this amazing festival of international music and dance has brought some of the world's best musicians and dance performers to Granada bringing the city's top venues to life.

This annual festival offers visitors the chance to see Granada transform itself into an endless stage graced by ancient music, chamber and symphony performances and local flamenco.

Grape harvests

Grapes are harvested in late August and September, and the event, known as La Vendimia, is often accompanied by a fiesta. The most famous Vendimias are at Montilla near Cordoba, Vendimia de Jerez de la Frontera at La Palma del Condado, in the Province of Huelva and Manilva at the west of the Costa del Sol.

Jerez horse fair

The Jerez Horse Fair is an exciting and lively event that brings the entire city to the Gonzalo Hontoria Fairgrounds, which cover 52,000 square metres, giving ample space for the finest horses of Jerez as synonymous with the city as sherry and flamenco, to show off their moves to the crowds who flock to the casetas which are open to the public, and other attractions.

Malaga Fair

The annual Malaga fair in August is an exuberant week-long street party with plenty of flamenco and sherry. This castanet-clicking fiesta starts off with an impressive firework display in the park which can be seen for miles around. The best view is from the Port if you happen to be on a cruise ship or can persuade a sailor friend to drop anchor there for a few hours.


Marbella Fair

It includes all the traditional elements of an Andalusian fair: food, drink, dancing, entertainment and of course, the trademark "casetas" that are set up just for the fair.

The actual date of the Marbella fair is determined by San Bernabé Day, which is June 11th. This is always a local holiday and the fair takes place during the first or second week of June depending on where the 11th falls and how the Town Hall thinks it best fits with all the festivities

San Juan

June 24th. The date remains a magical night in much of the northern hemisphere. Mythology states that strange occurrences can occur on this shortest night of the year. Certain pagan gods, for instance, make themselves visible during this night and we mere humans also give thanks and realise that the seasons of harder times are about to come.

Men and women, young people and children, all spend time to build these bonfires. According to tradition, if people jump over a bonfire three times on San Juan's night, they will be cleansed and purified, and their problems burned away.


Sevilla Feria

The Seville Fair takes place just two weeks after Semana Santa, in a huge area in Los Remedios, to the south-west of the city, next to the river. This is a week of serious dancing, drinking, eating and socialising, with late nights - or all-nighters - the norm. The sheer size of the April Fair's spectacle is extraordinary. There are also daily bullfights , generally considered the best of the season.

Summer fairs

Every town and village in Andalucia has its own feria or fair.The first feria takes place at Seville in April (two weeks after Semana Santa) and the last is at San Pedro de Alcántara in mid October.

The ferias usually start midweek and finish on Sunday night. In the larger towns they start at midnight on the Sunday night with fireworks. The Monday after is normally a bank holiday.

Wine Fairs

The programme each year is different but it usually starts with a Grand Procession on the Friday. The Queen of the Vintage occupies the seat of honour and is surrounded by her handmaidens, all chosen from the beautiful girls of Jerez, wearing white dresses and blue silk scarves, representing the white chalky soil and blue sky that give life and body to the vines.

Winter Festivals

ALL SAINTS DAY
On November 1st, fiestas called "Tosantos" (contraction of "todos los santos", or "all saints") are celebrated in the markets of Cadiz and the surrounding villages.

THE FEASTS OF SAN MARTIN
On 11th November, is the occasion for the slaughtering of pigs, in preparation for the winter-time drying of hams and sausages, at a fiesta called la matanza - literally, the killing - in all the towns and villages of the mountain areas of Andalucia. The day begins with the killing of the pigs and is spent butchering the carcass and stuffing sausages and black pudding. br>
THE VERDIALES MUSIC FESTIVAL

The Verdiales Music Festival takes place 28th of December at the Venta at 'Puerta de la Torre' on the C3311 road towards Almogia. The Pandas or groups of musicians from local villages compete on stage. More interesting are the spontaneous practice and jamming sessions where they fiddle, strum and rattle their instruments in a cacophonous frenzy, while bottles of potent Málaga wine and aguadiente are passed from hand to hand..

Spanish food festivals


Taste Guadalhorce

September 26-October 26
This is possibly the most loosely organized harvest festival. Basically participating restaurants in Alhaurín el Grande, Almogía, Álora, Cártama, Coín, Pizarra and Valle de Abdalají presents their own creations that revolve around the theme of local crops that are harvested at this time of year.


The Cheese Fair - Féria del Queso

October 4th and 5th
This annual fair is held in Teba not far from Ronda in Málaga province.The Cheese Festival has grown into a full-scale event with around 50 participating companies from across Spain providing a wide variety of cheeses for visitors to sample and buy. There are also workshops for those who wish to cook with cheese or even make their own cheese. There are prizes for the best cheeses in various categories and also for the best homemade cheese-based desserts. In addition, the people of Teba organise special guided visits to their local church, museum and the famous Estrella Castle.


Alora Soup Day

October 4
In addition to the panoramic views in Álora ,from the castle, the locals, known as "perotas", are good cooks. However, they aren't actually serving soup on "soup day". It's actually a very hearty local dish based on fried bread crumbs and vegetables.The activity takes place in the "Plaza Baja" with free food for all.


Oktoberfest

October 11
This festival gives you a chance to enjoy an authentic German Oktoberfest blended with Spanish music and food as well. Along with authentic German beer you can enjoy the German Choir "Los Cantadores", typical Bavarian music, a fashion show and even a yodelling contest.


Cured Ham Day

October 11
A festival in Villanueva de Córdoba in Córdoba province to sample various types of cured ham.


Regional Cured Ham and Iberian Pork Fair

October 11
If Aracena in Huelva is more convenient, you can also get your fill of cured ham at this large regional fair that brings exhibitors together and hosts a ham cutting contest.


Quince Festival

October 17 to 26
A festival in the province of Cordoba to enjoy the fruits of the quince tree. Membrillo is actually quince jelly, and with ten days to celebrate it, there are lots of ways to eat it.


Bread Festival

October 18th and 19th
You've probably never seen so much bread in one place as you'll see during the Bread Festival in Fuenteovejuna, Córdoba. Locals are keen to welcome visitors to their pueblo and the streets will be filled with bread for the festival.


Tapas Fair

October 31 - November 4
Sanlucar de Barrameda in Cádiz is known for its excellent seafood, so expect to try a wide variety at the Féria de la Tapa..


The Three Kings

As their royal magesties parade about town with their entourage of locals smiling and waving from trucks, trailers and even floats ,they dutifully toss out handfuls of sweets to the children waiting in the streets as they pass..

That same night of January 5th children are supposed to leave their shoes out the night before to receive their gifts. However, nowadays some families are using Christmas trees since there is no longer room in little children's shoes.

CONTACT US

from Spanish Festivals in Andalucia to HOME PAGE